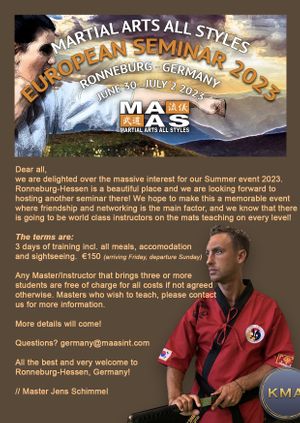 MAAS SUMMER SEMINAR 2023
30th Jun - 2nd Jul 2023
at Jugendzentrum Ronneburg
Add to Calendar
Event Details
MAAS EUROPE SUMMER SEMINAR
Confirmed instructors:
Soke Krishna Gopal (NL)
10 Dan, Founder of Kurodaiya self defence
MASTER NAJIM BOUARRAKIA (Marocco)
9. Dan hapkido 9. Dan Taekwondo

Hanshi Tair Nariman (SPA)
8th Dan Ju Jitsu
President Kosendo
Maestro Giancarlo Bagnulo (ITA)
7th Dan Ju Jutsu
President of ACSI Italian Martial Arts
Shihan Niclas Sjöberg (SWE)
7th Dan Ju Jitsu
Worldwide referee in Jiu Jitsu
Kancho Jens Hogsander (SWE)
6th Dan Ju Jutsu
Security and risk specialist
MAAS International Coordinator
Sabeomnim Jens Schimmel (GER)
5. Dan Hapkido, 4. Dan Kummooyeh
2. Dan Taekwondo.
MAAS Representative for Germany
Host of MAAS SUMMER SEMINAR 2023
Master Rune Eines (SWE)
5th Dan Ju Jitsu
Krav Maga and Military hostage and self-defence instructor
MAAS representative for Sweden
Master Martin Stolpe-Thomsen (DEN)
5th Dan Ju Jitsu
MAAS Representative for Denmark


Master Martin Wroblinski (GER)
5. Dan Taekwondo
3. Dan Shogen Ryu Okinawa Karate
1. Dan Kenko Kempo Karate
Master Michael Schmitt (GER)
5. Dan Jiu-Jitsu
4. Dan Ju-Jutsu
4. Dan Judo
Venue info in German: ( also if coming by carm address)
https://www.jugendzentrum-ronneburg.de/kontakt/
(0 60 48) 96 13 0 | info@jugendzentrum-ronneburg.de

Accomodations are in 1-5 bed rooms. ( 1-2 reserved) at site.
If seminar only ticket you can book hotel at:
krone-ronneburg.de ( Seminar price for 2 nights single room and breakfast 60€, Double room and breakfast 82€)

ronneburg-pension.de ( no seminar price)
By plane:
Frankfurt Airport - shuttle bus on Friday
By Train
Hanau Hbf
By car
Jugendzentrum Ronneburg
Eigenbetrieb Jugend- und Freizeiteinrichtungen des Main-Kinzig-Kreises
Auf dem Weißen Berg
63549 Ronneburg

Any questions:
germany@maasint.com